LDAR (Leak Detection and Repair)
Regulatory standards such as Maximum Achievable Control Technology (MACT), National Emissions Standards for Hazardous Air Pollutants (NESHAP), New Source Performance Standards (NSPS), and others require the monitoring and reporting of fugitive emissions from process equipment. Chemical plants, hazardous waste facilities, refineries, natural gas processing plants, among others, are required to implement and maintain LDAR programs for affected equipment to control and reduce emissions of volatile organic compounds (VOCs), hazardous air pollutants (HAPs), and inorganic compounds.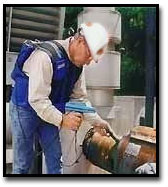 LDAR programs are implemented to comply with these environmental regulations for reducing the fugitive emissions of targeted chemicals into the environment. Process equipment subject to LDAR, such as pumps, valves, flanges, pressure relief devices, etc. is periodically monitored to detect leaks, which are then required to be repaired within a specified time period. The environmental regulations that prescribe Leak Detection and Repair as a means of reducing emissions have very specific standards that must be applied. These LDAR standards normally define:
Chemical streams that must be monitored
Types of components to be monitored (pumps, valves, flanges, connectors, etc.)
Leak definition (concentration measured in parts per million that indicates a leak)
Frequency of monitoring
Method of monitoring
Action to be taken if a leak is detected
Length of time in which an initial attempt to repair the leak must be made
Length of time in which a successful repair of the leak must be performed
Actions that must be taken if a leak cannot be repaired within the specified time frame
Record keeping and reporting requirements
The LDAR experts at Emissions Monitoring Technologies, Inc. utilize state of the art equipment, highly qualified and trained personnel, and protocols designed specifically to help industrial facilities comply with these complex LDAR requirements. Emissions Monitoring Technologies, Inc. provides quality Leak Detection and Repair services through programs custom designed for each customer's individual needs.
Emissions Monitoring Technologies, Inc. LDAR services include:
Process system review (to determine equipment applicability)
Equipment identification
Database generation (of all data specific to each affected component)
Leak detection monitoring using portable monitoring instruments and methods specified in EPA Method 21
Maintenance and/or repair services on leaking components
Data management
Extensive reporting services
Emissions estimate calculations
Training Programs
Auditing Programs (including third party auditing of existing programs)
For more information on how Emissions Monitoring Technologies, Inc. can provide cost effective solutions to your leak detection problems, call (800) 497-4407 or email sales@emtech-us.com.