Gas Leak Detection
Leak detection is the branch of nondestructive testing generally used to determine the integrity of equipment and components that contain or will contain fluids, gases or that exclude the atmosphere. Like other forms of nondestructive testing, leak testing has a great impact on the safety or performance of equipment and/or products. Leak testing saves costs by reducing the amount of unscheduled equipment downtime, materials loss due to leakage, reworked products, and in many cases by lowering energy costs.
The three most common reasons for performing a leak survey or leak test are: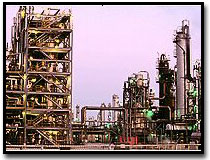 Equipment Reliability - Component reliability has long been a major reason for leak testing. Leak tests can be performed to assure the serviceability of critical parts in many types of equipment.
Contamination - With the promulgation of stricter environmental and OSHA regulations, this is rapidly becoming a primary reason for leak testing. Leakage of dangerous liquids or gases can pollute and create serious hazards to personnel.
Material Loss - The rising cost of materials and energy make losses from this type of leakage increasingly important to identify and control.
Whether your leak detection project is large or small, the experts at Emissions Monitoring Technologies, Inc. can assist you. With precision leak detection equipment, trained personnel, and proven methods, Emissions Monitoring Technologies, Inc. is ready to provide cost effective leak detection solutions to meet each customer's individual needs.
Applications include:
Chemical
Petroleum
Power Generation
Natural Gas
Manufacturing
Medical
Pulp and Paper
Commercial
Leak testing can be performed on:
Pipes
Vessels
Columns
Valves
Flanges
Fittings
Joints (threaded, welded, etc.)
Regulators
Meters
Laboratory Equipment
Refrigeration Equipment
Natural Gas & Propane Systems
For more information on how Emissions Monitoring Technologies, Inc. can provide cost effective solutions to your leak detection problems, call (800) 497-4407 or email sales@emtech-us.com.